End Time Headlines July 2020
(Accuweather) –Residents along the Texas Gulf Coast on Friday afternoon were bracing for a hit from Tropical Storm Hanna, which was looming about 230 miles east of Corpus Christi. Hanna was packing 50 mph winds and moving west over the warm waters of the Gulf of Mexico at a speed of 9 mph.
Many Americans See The Hand Of God At Work In Current Events . Michael Snyder
– 2020 has been an incredibly bizarre year up to this point, and this has many people wondering if the hand of God is at work. And the worse things get, the more this sort of speculation will heat up. When things get crazy, people search for answers, and that can be a good thing. Because the truth is that during normal times most of us are way too self-absorbed and most of us spend far too little time thinking about the things that really matter.

2020 has really shaken up a large portion of the U.S. population, and we should hope that all of this shaking ultimately moves our society in a more positive direction. Right now, COVID-19 is dominating the headlines day after day, and the debates that I have seen on social media platforms about this pandemic have often gotten quite heated.

I knew that many people had extremely passionate opinions about COVID-19, but what I didn't realize is that a large percentage of them are also convinced that God is somehow involved. In fact, an Associated Press/NORC survey found that 63 percent of all religious Americans believe that this pandemic is "a sign from God"… Sixty-three percent of religious Americans say that the novel coronavirus pandemic is a sign from God, telling humanity to change its ways of living, according a new poll.

The poll, which was conducted by the Associated Press/NORC, surveyed 1,002 U.S. adults who say they believe in God. I was stunned to see a number that high. The Bible does tell us that there will be "pestilences" in the last days, and it would have been very interesting to see how many respondents to that survey believe that this COVID-19 pandemic is one of those pestilences.

In any event, if this pandemic actually does inspire vast numbers of Americans to live better lives, that would definitely be a positive outcome. Unfortunately, that does not appear to be happening. Instead, surveys have shown that Americans are increasingly turning to drugs, alcohol and television during this pandemic, and a survey that was released just this week found that Bible reading in the United States dropped precipitously "between January and June"… READ MORE
Fears of Harbingers as DC bombarded with lightning storm and Statue of Liberty struck by lightning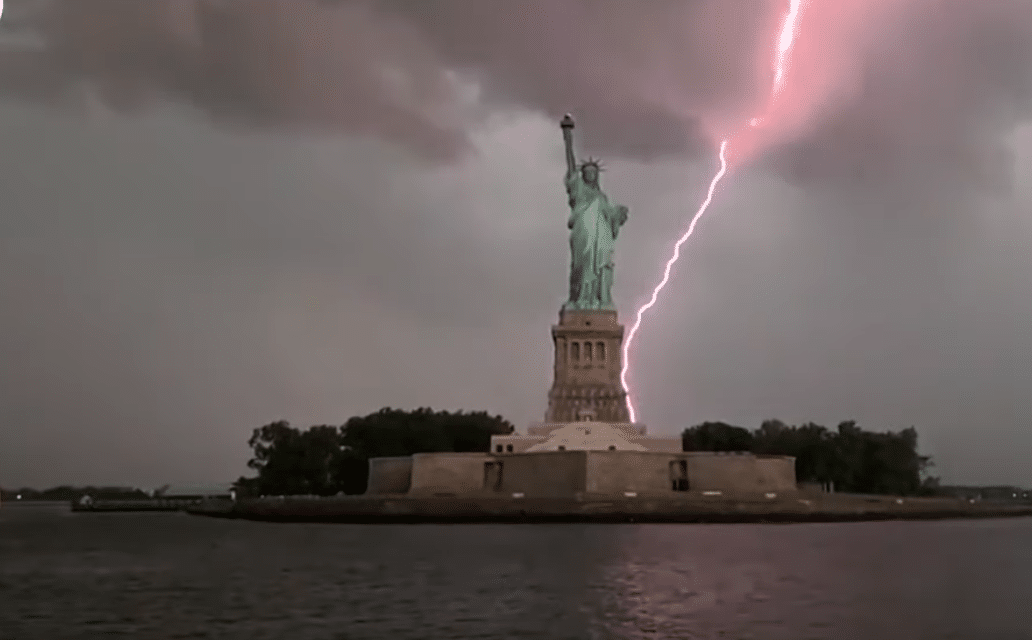 OPINION (ETH) – Two events just took place that has many believers wondering if God Almighty is sending yet more warnings to the United States of America? The first event was an intense lightning storm that recently took place over New York City that resulted in lightning striking Lady Liberty and was captured on video.
Google Search Blacklists Major Conservative Websites in New Censorship Purge
Breitbart, the Daily Caller, Infowars, Human Events and Red State are all missing when a user searches directly for those websites on Google.com.
Some of the sites have small link from their Wikipedia bio on the right hand side, but are absent from main search results.
Searches for direct headlines from the same outlets also return either nothing or links to corporate media news stories.
People in Israel are Preparing Show-Bread for Service in Third Temple
Why is any of this relevant now? Saidel explained that, "We are in
the throes of
Moshiach
(messiah). We have to learn how they did things in the Temple to be ready [for the Third Temple].
"Bread is an excellent medium to teach people how they did the
avodah
(service) in the Beit HaMikdash," he commented. In their live workshops, participants have the chance to mix and bake and smell the bread and the
levonah
(frankincense) associated with it.
Locust Plague goes Global Hitting Argentina: 'An End of Days Prophecy' says Rabbi